From Our Files: An Interview with Charlton Heston
In 1959, the Monitor interviewed Charlton Heston, who died on Saturday, April 5. Heston won the 1959 Best Actor Oscar for the role in 'Ben-Hur.'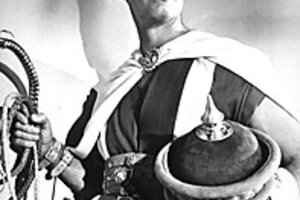 From the November 4, 1959 edition of The Christian Science Monitor
No matter how you look at Charlton Heston, who wheels a chariot 35 miles an hour in Ben-Hur, he is quite an eyeful. In costume, his white teeth gleaming and his face taut with expression, he makes a superlative movie actor. His private character is a mixture of candor, pride, and personality.
Some MGM publicity man got the idea that since chariot racing is a sport - or was back in Ben-Hur's day - that no self-respecting historian of the sports arena could possibly resist the opportunity to interview Charlton.
Five sports writers showed up yesterday at the Ritz-Carlton and met a man who wanted to be an actor since he was a little boy and once played end for Northwestern.
COLLEGE FRESHMAN
"I was a college freshman," Heston confessed, "and since I'd played football in high school it seemed only logical to try football at Northwestern. The varsity quarterback that year was Otto Graham. But after we'd scrimmaged Graham and his playmates a few times I decided I might not live long enough to be an actor. In two words, I quit."
Asked to describe chariot racing, Heston said it was both rough and demanding. He still has calluses on his hands from gripping four sets of reins and he spent five weeks with Hollywood stunt man Yakima Canutt learning to pilot a team of horses before shooting even began. He had a double for the distance shots but the closeups he did himself.
COULDN'T BELIEVE IT
---