New on DVD: 'Juno,' 'There Will be Blood'
The two Oscar-winning films get a home-video release. One's a comedy; the other decidedly is not.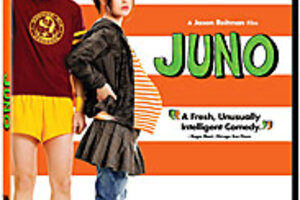 Courtesy of 20th Century Fox
In these halcyon days of the Hollywood blockbuster, rare is the flick that forgoes concrete plotting and a pat conclusion. "There Will be Blood," Paul Thomas Anderson's story of a oilman's rise – based very loosely on a novel by Upton Sinclair – has a beginning but no real end, and a chronologically scattered middle. (As for the titular blood, it eventually arrives, but in a trickle.) In most ways, it's a showcase for Oscar-winner Daniel Day-Lewis and the stark scenery of the old West. In the first years of the 20th century, Daniel Plainview (Day-Lewis) arrives in California as a prospector. First, he must strike a deal with Eli, a local preacher and faith healer. The pair clash; caught somewhere in the middle is young H.W., Daniel's adopted son. At its best, "There Will Be Blood" is nothing less than a metaphor for the birth of modern America: marred by conflict, colored by religious fervor, and written by self-made tycoons. Among the extras is a 1920s-era film chronicling the rise of the oil business. – Matthew Shaer [Editor's note: The original version misidentified the author of "Oil," a novel by Upton Sinclair.]
---
Follow Stories Like This
Get the Monitor stories you care about delivered to your inbox.