Fast Times at 'Baghdad High'
The documentary, due to première at the Tribeca Film Festival, follows four teenagers trying to eke out a normal life inside a war zone.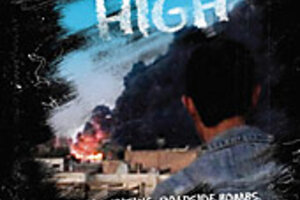 Courtesy of carlos tejeda/hbo
About half way through "Baghdad High," a teenager named Hayder walks the 500 yards between his front door and a friend's Baghdad home, the camera trembling in his hand. "I may get killed at any moment," he explains. But when the lens opens again, he is sitting in a brightly lit bedroom, slamming through the sunny chorus of "Hotel California" on an out-of-tune acoustic guitar.
This juxtaposition – between the foreign and the familiar – forms the heart of the documentary that has its American première at the Tribeca Film Festival in New York this week. Unlike the flood of Iraq-related films spilling into the marketplace, "Baghdad High" does not take the long view. It is filmed close-up, in jittery autobiographical asides and teary confessionals, by four boys – a Christian, a Kurd, a Shiite, and a Sunni – trapped in a war zone.
Mohammad, who is half-Sunni, half-Shiite, lives with his single mother, and fights hard to stay afloat academically; Hayder, a Shiite, sings along to Britney Spears; Anmar, a Christian, wonders if his girlfriend is ever going to call him back; Ali, the Kurd, faces the prospect of a new life outside Baghdad with trepidation and then an unexpected levity.
The boys meet in school, and then retire to their homes, where they can often hear the crackle of gunfire or smell the acrid smoke that follows a bombing. The cameras are rarely turned off.
---