Hazy screens: Is Hollywood pushing marijuana?
A raft of films has some observers citing a generational shift among filmmakers.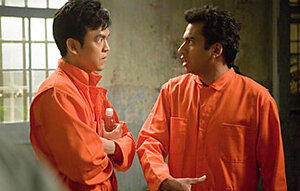 new line cinema/ap
Call it cinema's stoned age. Films featuring characters using marijuana have mushroomed.
"Harold and Kumar Escape from Guantanamo Bay," the second movie to feature the titular pot-smoking characters, grossed nearly $15 million on its opening weekend, which might portend a big opening for August's "Pineapple Express," a Judd Apatow-produced comedy about a pot smoker and his supplier on the run. Also rolling out: "The Wackness," with Ben Kingsley as a bong-using psychiatrist; "Humboldt County," in which a medical student spends a summer in a marijuana-farming town; and "Super High Me," with comedian Doug Benson using the drug for 30 days.
Antidrug campaigners and proponents of marijuana decriminalization disagree about whether such films represent a change in societal attitudes. But the movies, most written by people under 40, seem to represent a shift in Hollywood.
"There seem to be movies that are produced by a younger generation than the baby boomers, [by people] who seem to have had a lot of experience with marijuana," says Jacob Sullum, senior editor at Reason magazine and author of "Saying Yes: In Defense of Drug Use."
---