Review: 'Hamlet 2'
Irreverent comedy about a nutty drama teacher's remake of Will's play skids off rails.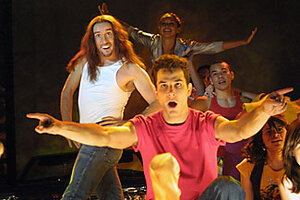 Cathy Kanavy/AP
Steve Coogan is a marvelous comic actor whose funniest work, for those who don't live in England, is tantalizingly out of reach. On British TV or in live performance he has played, for starters, an airhead talk show host, a sleazy Portuguese singer, and a drugged-out ex-roadie who now works as an exterminator.
If you've seen Coogan in the movies, it's probably been in "24 Hour Party People," as the record impresario Tony Wilson, or in Jim Jarmusch's "Coffee and Cigarettes," where he and Alfred Molina, playing actors, improvise the ultimate backstabby Hollywood encounter. He also has a small but pungent role as the movie director in "Tropic Thunder."
I had high hopes for "Hamlet 2" because it presents Coogan in his first full-scale comic role in an American movie. On paper at least, it fits him to a T.
He plays Tucson High School drama teacher Dana Marschz. (Nobody in the film, least of all Dana, can quite pronounce that surname.) Once a bad actor, he is now a bad teacher. His last production for the high school was a re-creation of "Erin Brockovich" that was soundly panned by the school's nerdy ninth-grade drama critic.
---