Sounding out character in movies
Movie sound design proves more art than science.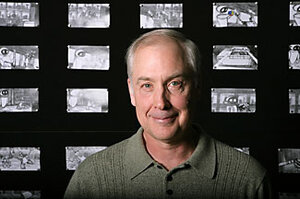 Courtesy of Pixar
For all the computing power that animators employ these days, sometimes it's a simple sound that conveys the most emotion. Pixar's hit movie, "WALL-E," is the most recent example of sound's crucial role. The first hour of the intergalactic love story has almost no human dialogue. Instead, the story line starts with simple bleeps, squeaks, and background atmospherics, which, by the end of the film, become a sophisticated interweaving of 2,600 sounds.
The orchestrator of this symphony is Ben Burtt, who, with his team, found everyday sounds they could alter to create each mood. Making a robot "come alive" on screen takes clarity on the part of both animators and sound designers. "It's about understanding if the sound should be happy or sad, sympathetic or mechanical," says Mr. Burtt from his office in Nicasio, Calif. That way, every time the character WALL-E moves his arm, turns around, or "speaks," his sounds consistently reinforce his kind, industrious, and ever-hopeful nature.
Despite the fact that animated films are largely special effects, creating the character voices for "WALL-E" did not originate with an electronic synthesizer. Burtt recorded human voices for the robots and converted them electronically to fit the focus of each scene. He would then play them for director and co-writer Andrew Stanton to be sure they were true to his vision of the characters' identities.
---
Follow Stories Like This
Get the Monitor stories you care about delivered to your inbox.