Review: 'Pray the Devil Back to Hell'
Documentary records the heroism of Liberia's women who successfully demanded the country's warring parties find a path to peace.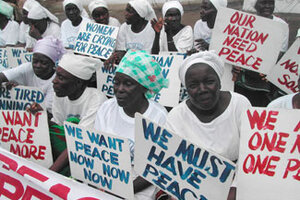 COURTESY OF PEWEE FLOMOKU/FORK FILMS
The heroism on view in the documentary "Pray the Devil Back to Hell" is breathtaking. It's about a band of women who, unarmed, stood up to tyrants and won. And it's all true.
Liberia, the West African country of 3 million people that was founded in 1847 by freed American slaves, suffered a civil war in 1989 that gave rise to Charles Taylor, who was elected president in 1996 and rapidly descended to dictatorship. A second civil war devastated the country all over again. Rival, mostly Muslim warlords, attempting to depose Taylor, a Christian, raped and pillaged the populace. A quarter of a million people were killed; another million were displaced.
Into this horror strode women from activist Christian women's organizations. Calling themselves the Christian Women's Initiative and under the direction of Leymah Gbowee, a fiercely determined Liberian woman, these mothers, daughters, wives, and grandmothers formed an unlikely but inevitable alliance with a group calling itself the Liberian Muslim Women's Organization, created by Asatu Bah Kenneth, a Muslim follower of Gbowee's. Together they organized sit-ins lasting days, they forced cease-fire negotiations, and, when things slowed, barricaded the conference building until a settlement was hammered out. As the film's director, Gini Reticker, points out, the women even resorted to a time-honored ploy right out of "Lysistrata" – they refused any sexual relations with their men until the fighting stopped.
---