Review: 'Slumdog Millionaire'
Set in India, this Dickensian fable for our time seems to work – up to a point.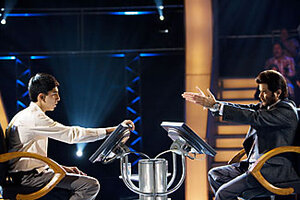 Courtesy of Ishika Mohan
Danny Boyle's "Slumdog Millionaire" is trying very hard to be a Dickensian fable for our time. Eighteen-year-old Jamal Malik (Dev Patel), a poor kid from Mumbai (Bombay), has correctly answered every question put to him on the local version of "Who Wants to Be a Millionaire." With the ultimate prize of 20 million rupees in sight, he's taken into custody by the police, who believe he is cheating. They torture him, in vain, to elicit a confession. In flashbacks to his squalid childhood and beyond, we see just how Jamal learned those answers – through the school of hard knocks.
It's a fanciful contrivance, since Jamal is no genius. But it works – up to a point. I can accept a lot in a movie if it's aiming high, but Boyle and his screenwriter Simon Beaufoy, adapting a novel by Vikas Swarup, are very slick filmmakers. It's no accident that the film's closing credits are capped with a Bollywood-ish music video featuring most of the cast. The entire film has the glibness of a music video. Boyle has managed to make dire poverty seem glossy.
---