Review: 'Frost/Nixon'
Docudrama portrays Nixon as a tragic figure attempting to rehabilitatehis image with a series of interviews with David Frost, a lightweightopportunist.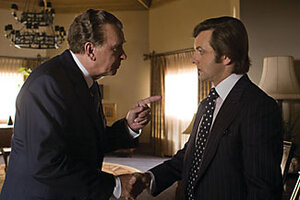 Courtesy of Ralph Nelson/Universal Pictures
"Frost/Nixon," starring Frank Langella as Richard Nixon and Michael Sheen as David Frost, is both up to the minute and past its expiration date. Directed by Ron Howard and written by Peter Morgan, who expanded his celebrated stage play, it's about the disgraced Nixon, who resigned from the presidency in 1974 and three years later, for a $600,000 paycheck, sat for a series of interviews with the British talk-show host Frost.
Frost was widely regarded at the time as a lightweight, and Nixon, licking his wounds in his seaside villa in San Clemente, saw the sessions as a chance to rehabilitate his image. The Frost team, which included attack-dog researcher James Reston Jr. (Sam Rockwell), viewed the interviews as an opportunity to give the pardoned president "the trial he never had."
With a backdrop this dramatic, Howard and Morgan proceed to make it even more so. Not content merely to lay out the facts, they frame the Frost-Nixon confrontations as full-on combat. Each fighter has his trainers, his handlers, his cut men. The only thing missing are referees in the ring, and, in a way, we get those, too. Borrowing a tactic from "Reds," Howard intermittently intercuts blow-by-blow talking-head commentary from the various aides in both camps. The film is saying, politics isn't just politics, it's blood sport. Just in case we didn't already know this.
---