Review: 'Defiance'
Based on a true story, movie traces the history of a ragtag community of Jewish civilians who escape into the woods to flee the invading Nazis.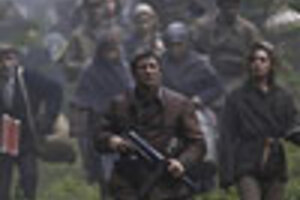 Newscom
Despite the glut of Holocaust movies this season, including "Valkyrie," "The Reader," and "The Boy in the Striped Pajamas," no one can accuse them of being thematically alike. Now comes "Defiance," a never-before-filmed story of Jewish survival directed by Edward Zwick in big, bold, frankly old-fashioned Hollywood high style.
Based on a 1993 book by historian Nechama Tec, it focuses on three brothers, the Bielskis – Tuvia (Daniel Craig), a thief and smuggler who has been in hiding since 1941 when the Nazis wiped out the community where his family farmed; Zus (Liev Schreiber), a troublemaker even more violence prone than Tuvia; and Asael (Jamie Bell), who, compared with his siblings, is like a babe-in-the-Belarus woods.
Those woods are both the battlefront and the haven for what gradually, under Tuvia's command, becomes a self-sustaining ragtag detachment of Jewish civilians whom he must eventually lead to safety. The intellectuals in this community are looked down upon by the Bielskis because they lack survivalist skills – it's a neat reversal of the usual emphasis in Jewish-themed dramas on the primacy of the scholar.
Eventually, after a violent fight between Tuvia and Zus that, like much in "Defiance," is almost biblical in its implications, Zus breaks away from the encampment and sides with Soviet partisans aligned with the Red Army. Ultimately, 50 Jews died, 1,200 were saved – by other Jews.
---