Review: 'Under the Sea 3D'
Latest IMAX 3D adventure puts you nose to nose with a dazzling array of sea creatures and makes you wish the movie were longer.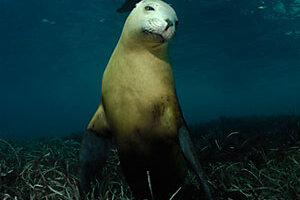 Jeff Wildermuth/IMAX
I'm a sucker for 3D Imax movies, even the bad ones. When they're good, case in point "Under the Sea 3D," they're sublime. This film comes about as close to snorkeling beneath the Southern Hemisphere as you are likely to get without diving equipment.
Director Howard Hall, who first took IMAX 3D cameras underwater for the 1994 feature "Into the Deep," and in 2006, made "Deep Sea 3D," is at it again. In the latter film, he whooshed us beneath the waters off the Baja Peninsula, the Gulf of Mexico, Hawaii, and the Bahamas. Here, he set his sights on Papua New Guinea, southern Australia, the Great Barrier Reef, and the waters around Indonesia in the Coral Triangle.
Ostensibly this ecofriendly film is a call to action. It might have been subtitled "Save the Coral Reefs." The narration, straightfacedly supplied by Jim Carrey, offers up info on protecting the marine environment.
All this is good and necessary, but, in going overboard, let's not go overboard. I certainly hope "Under the Sea 3D" rescues the reefs but, more than that, it rescued my moviegoing. Just when I was resigned to my early-year movie blahs, here's a film that makes your eyes pop.
---