Review: 'The International'
Thriller races around the globe like a scruffy Bond movie but without the moral clarity.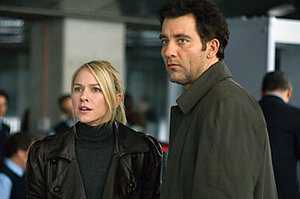 Berlinale/AP
The German director Tom Tykwer is best known for "Run Lola Run." His new film, "The International," stars Clive Owen and might as well be called "Run Clive Run."
Owen plays an Interpol agent, Louis Salinger, who teams with Manhattan Assistant District Attorney Eleanor Whitman (Naomi Watts, in a rather thankless role) to bring one of the world's most powerful banks to justice. (Salinger, Whitman – want to bet that screenwriter Eric Warren Singer was an English major?)
This is one of those global thrillers that comes on like a travel brochure. Berlin, Milan, and Istanbul are the big backdrops. On the surface, at least, it all seems very James Bond-ish, except that Tykwer overdoes the grayed-out clamminess of these locations, especially Berlin. The big bad bankers of IBBC – a fictitious corporation not so subtly reminiscent of the real-life BCCI, which collapsed amid scandals in 1991 – are a sleek crew of cut-throats. They seem all of a piece with the cold, reflecting surfaces of their boardrooms. Salinger, by contrast, looks like an unmade bed. "You look terrible," Whitman tells him at one point, and he doesn't disagree.
---