L.A. comes of age with opera giant
The City of Angels readies Wagner's mythic Ring Cycle for 2010 festival.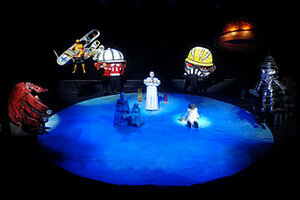 COURTESY OF MONIKA RITTERHAUS/LOS ANGELES OPERA
Standing in the darkened wings of the Dorothy Chandler Pavilion, where the Los Angeles Opera is readying its upcoming production of "Das Rheingold," it's easy to feel the vastness of a Wagner opera. As the dress rehearsal progresses, singers bustle on and offstage in outsized, wildly decorated costumes.
The stage, raked up to nearly 11 feet, looms over the performers. And an 80-foot scrim spans the front of the stage to allow such startling effects as a sheer wall of blood to slowly wash down from the ceiling.
Then, of course, there's the music, 14 hours in the four operas that comprise Wagner's masterwork known as the Ring Cycle. The company plans to present the entire quartet over the next 14 months in preparation for "Ring Festival L.A.," a two-and-a-half-month, citywide Wagner-themed celebration involving more than 50 arts and cultural organizations.
The company's general director, Placido Domingo, calls the $32 million Ring Cycle "audacious." City leaders and opera watchers say the festival – the first of its kind – is an important moment for the nation's second-largest city. "L.A. has come of age when it comes to the arts," says L.A. County supervisor Zev Yaroslavsky. "We couldn't ask for a better way to punctuate the last decade."
Says OPERA America president Marc Scorca, "L.A. has made great strides in the past two decades in becoming a major cultural center of gravity, and this ring festival adds substance to that."
---