Films that presaged the wall's fall
On the 20th anniversary, film festival honors Eastern bloc movies made in the decade before the Berlin Wall's demise.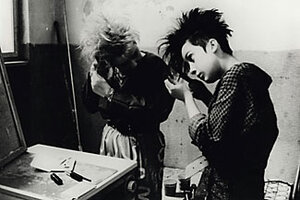 Courtesy of Berlinale
Mauerfall ("wall fall") is what the Germans call it – part of their rich vocabulary to discuss the fate of East Berlin.
As the 20th anniversary of the fall of the Berlin Wall approaches this November, the 59th Berlin International Film Festival paid tribute last week with a series of films that presaged the collapse of socialism.
"After Winter, Comes Spring," a special program of films produced in Eastern bloc countries in the final decade of the cold war, included features, documentaries, animated films, and experimental ones from East Germany, Poland, Russia, Hungary, Romania, the former Czechoslovakia, and Bulgaria. After screening in Berlin, the 15-film series goes on a national tour.
The curator, Claus Löser, is an East German native who dismisses the notion that these films explicitly predicted the fall of Communism. "These films are documents of discontent and resistance," he says in an interview. "Of course, they are not prophetic films in a way of seeing exact historical changes. It's more abstract." The films, he adds, "have a healthy amount of disrespect and struck a new note by documenting in film the advent of change."
---