Review: 'Duplicity'
Romantic thriller rolls out star power but leaves audience with an empty puzzle of a plot.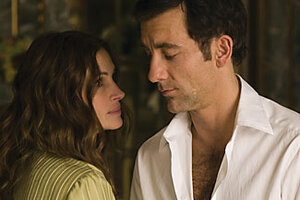 Courtesy Universal Pictures
In case you had forgotten, "Duplicity" is a reminder that star power can go a long way. Clive Owen and Julia Roberts play warring, loving corporate spies, and the glamour of their pairing often matches the swankiness of their backdrops – Dubai, Miami, Rome, London, the Bahamas.
"Duplicity" is also a reminder of the limits of star power. For all the glam and swank, the film is essentially a bright, shiny, empty puzzle. The puzzlemaking by writer-director Tony Gilroy is clever but most frequently an end in itself.
We are called upon to decode the narrative, which flashes back and forth in time beginning in 2003 in Dubai. The gamesmanship between director and audience is meant to mimic the cat-and-mouse machinations between former MI6 agent Ray Koval (Owen) and ex-CIA operative Claire Stenwick (Roberts) as well as the corporate honchos they work for. Too often, though, I asked myself why the film didn't play itself out in a straight line. If it did, maybe it would seem more conventional. Nothing like a little time-juggling to add some high gloss to used goods.
---