Review: 'O'Horten'
A train engineer's take on retirement slips into the absurd in this surreal Norwegian comedy from director Bent Hammer.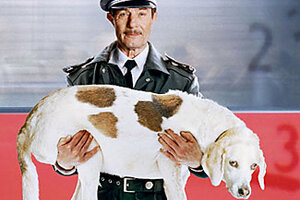 Hans-Jorgan Osnes / Sony Pictures Classics
The Norwegian director Bent Hammer, whose new film, "O'Horten," is about a newly retired train engineer, has that scarcest of qualities – a uniquely comic way of seeing. Despite all the comedies that have been filmed over the years, few look or sound as if they were made by a single, shaping sensibility.
Sometimes this singularity of sensibility is an illusion. Many of the brightest Hollywood comedies, for example, from "His Girl Friday" to "Tootsie," were veritable constellations of collaboration. But film artists with true comic vision are very rare: Charlie Chaplin, Buster Keaton, Jacques Tati, Ernst Lubitsch, not many others.
I am not suggesting that Bent Hammer belongs in this pantheon. Of the three feature films of his that I've seen (he's made five), none are masterpieces, although "Kitchen Stories," that supernal inventory of Norwegian idiosyncrasy, is a minor miracle. But everything he does is breathtakingly distinctive. Even his sole Hollywood foray, the uneven "Factotum," is an original. Starring Matt Dillon as the young Charles Bukowski before brawliness got the best of him, the film has a funky sweetness all its own. Hammer can find lyricism in the strangest places – in fact, those are the places he covets.
The "O" in "O'Horten" stands for "Odd," a common first name in Norway and also, under the circumstances, perfectly apt. Horten (Baard Owe) has been gently pushed into retirement. Living alone in an apartment appropriately close to train tracks, taciturn to the point of near-muteness, he finds himself unsuited to the pensioner's life. He's not lonely, exactly – since he never had many friends, he doesn't really miss not having them.
---