Review: 'I Love You, Beth Cooper'
Romantic comedy for teens has fresh twist and new acting find Paul Rust.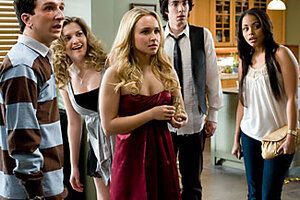 Joe Lederer/20th Century Fox/AP
Bitter experience has taught me that any summer romantic comedy aimed at teens already has two strikes against it. If, however, you go into "I Love You, Beth Cooper" with zero expectations, it's not half bad. It's directed by the terminally workmanlike Chris Columbus, but the script by Larry Doyle, based on his novel, has some smart flashes, and a few of the young performers resemble real people and not the usual prefab teen idols.
The premise is a good one. Instead of spouting the usual boring homilies, geeky high school class valedictorian Denis Cooverman (Paul Rust), urged on by his best friend Rich (Jack T. Carpenter), uses the occasion of his senior graduation address to proclaim his years-long crush on fellow classmate and head cheerleader Beth Cooper (Hayden Panettiere), who of course doesn't know he exists.
Taken aback, but also intrigued by his ardor, Beth slowly warms to him as day passes into night. She is flanked by her two best friends, cheerleaders Cammy (Lauren London) and Treece (Lauren Storm). Together they form a trinity right out of "Mean Girls." Except their meanness burns off rather quickly. You see, this is a movie about locating the inner sweetness in all of us. Sometimes a cheerleader is more than a cheerleader. (Isn't it about time somebody organized an antidefamation league for cheerleaders?)
---