Review: 'Harry Potter and the Half-Blood Prince'
For 'Harry' fans the intensity deepens at Hogwarts – as do adolescent romantic interests.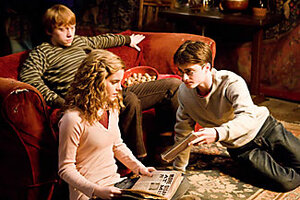 Jaap Buitendjik/ Warner Bros./ AP
In "Harry Potter and the Half-Blood Prince," the sixth cinematic installment in the "Potter" series, Harry and his Hogwarts cohorts face the most fearsome adversary of all – adolescence. Or to be more exact, adolescent romance. There's no potion strong enough to cure it.
Harry (Daniel Radcliffe) is warming up to Ginny Weasley (Bonnie Wright); her brother Ron (Rupert Grint) is besieged by Lavender Brown (Jessie Cave), whose ardor resembles commando raids. This does not sit well with Hermione Granger (Emma Watson), who fumes with jealousy as only she can fume.
It was inevitable that the "Half-Blood Prince" would involve itself in more Muggle-ish matters as teen romance. The lead actors in these films have grown up before our eyes, and their acting has grown up, too. There's something inherently funny about the romantic predicament of Harry and Ron and Hermione. As if it wasn't bad enough having to deal with the Dark Lord and the Death Eaters and all the rest, now they have to square off against... raging hormones.
---