Review: 'Funny People'
Adam Sandler plays a successful comic coming to grips with a possibly fatal diagnosis in the latest Judd Apatow comedy.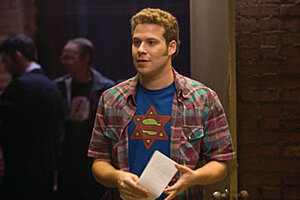 Tracy Bennett/Universal Pictures/AP
Much is being made of the fact that the sort-of-serious "Funny People" is directed by Judd Apatow, best known for producing a string of comedies like "Superbad" and "Anchorman: The Legend of Ron Burgundy" and for directing "The 40 Year Old Virgin" and "Knocked Up." But is "Funny People," starring Adam Sandler as an Adam Sandler-like comedy superstar who is diagnosed with a possibly fatal blood disease, really such a stretch?
As opposed to the films he's produced, which tend to be heavy on goony gross-outs, the Apatow-directed movies, once you strip away their goony gross-outs, are actually pretty straitlaced. Steve Carell's virgin is a sweet-souled innocent who believes in true love. Mismatched one-night-standers Seth Rogen and Katherine Heigl in "Knocked Up" decide to stay together and raise their baby. This collision in Apatow's movies between raunch and true romance is what makes them so distinctively odd, and also, I think, so commercially successful. Watching them makes you feel both lowdown and upstanding. And, unlike the recent "The Ugly Truth," where the flip-flop between gross and wholesome comes across as a cynical connivance, the back and forth in Apatow's movies seems genuine. There's nothing subversive about his comedy. He's just being naughty.
---