Review: 'Ponyo'
Japanese animator Miyazaki's latest film is a captivating tale of a tiny fish who jumps out of the ocean to see the world.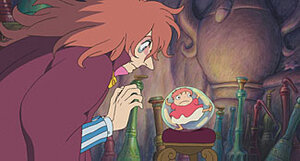 Disney/AP
The great Japanese animator Hayao Miyazaki is one of the last holdouts for old-style, hand-drawn animation. Although he has occasionally, for short stretches, resorted to computer graphics as well, his movies remain triumphantly painterly and fluid. They're pre-Pixar paragons.
"Ponyo," his latest, is not quite as magical or complexly unsettling as, say, "Howl's Moving Castle" or his Oscar-winning masterpiece, "Spirited Away." But it's still a marvel. Although it will draw thematic comparisons to "The Little Mermaid" and "Finding Nemo," it's unlike any other animated feature – excepting, of course, Miyazaki's own.
Ponyo is the name of a tiny fish in a red dress – a goldfish princess – who jumps out of the ocean to see the world. (Floating jellyfish are her couriers.) She wants to be human and, in a way, that's what happens. Rescued by the 5-year-old boy Sosuke, who lives on a cliff high above the roaring waters, the two become inseparable until forces both natural and unnatural contrive to break them apart.
Ponyo's father is a kind of water deity, a sorcerer, who at first seems benighted but, in fact, is Ponyo's protector. Miyazaki has compared him to Prospero in "The Tempest," and this is apt. There are sequences in "Ponyo," such as the scene where the oceans crash as submerged trees and moorless ships assume otherworldly shapes, that have a Shakespearean poeticism.
---