Movie review: "Paris"
This intimate film weaves multiple plots of ordinary lives and loves.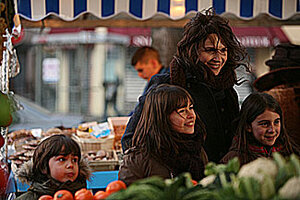 David Koskas/IFC Films
The new film "Paris" by writer-director Cédric Klapisch was originally supposed to carry the subtitle "An Ephemeral Portrait of an Eternal City." That kind of sums it up, but not necessarily in the ways Klapisch intended. He probably thinks ephemeral is synonymous with poetic, but sometimes, to paraphrase Freud on cigars, ephemeral is just ephemeral.
Klapisch, who scored an art house hit with "L'Auberge Espagnole," once wrote a master's thesis on Woody Allen, and "Paris" has certain affinities with Allen's work, especially, of course, "Manhattan." But it's also a nod to the crisscrossing panoramas of Robert Altman, although "Paris" is definitely Altman Lite.
Pierre (Romain Duris) is a cabaret dancer who discovers that only a heart transplant can possibly save his life. His social worker sister Élise (Juliette Binoche) is enlisted to care for him in the run-up to the operation. Single, with three children in tow, she alternates between being a calming influence and an irritant.
---