Movie review: 'A Serious Man'
The Coen Brothers' latest contribution is a deeply bleak comedy about a college professor whose life unravels before him.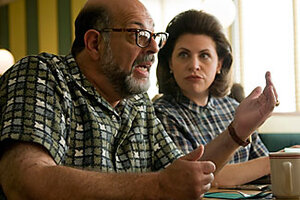 Wilson Webb/PhotoFocus Features/AP
"A Serious Man," the new movie from Joel and Ethan Coen, opens with a gnomic injunction: "Receive with simplicity everything that happens to you." Since this is a Coen Brothers movie, the first question we must ask is, "Are they kidding?"
What follows is one of the nastier entries in the Coen Brothers' oeuvre, and I don't mean this entirely disparagingly. With the Coens, nastiness is a given. What really matters is how artful and funny and cosmic it all is. The same filmmakers who gave us "The Ladykillers," that unleavened slice of sourdough, also made the shattering "No Country for Old Men."
"A Serious Man" begins with a prologue, a Yiddish folk tale the brothers cooked up, about a ghost (or is he?) who sets upon a married couple in a Polish shtetl. (Yiddish is spoken throughout.) This intro, a cross between Isaac Bashevis Singer and Rod Serling, doesn't make much sense with the rest of the movie – except that, since the movie is about the senselessness of fate, it fits right in. Following this prologue the film jumps ahead a century to suburban 1967 Minnesota and the travails of one Larry Gopnik (the marvelous Michael Stuhlbarg, mostly known for his stage work), a physics professor with the requisite nerd costume of short-sleeved dress shirt and pocket protector.
---