Review: 'The Damned United'
A battle of wills plays out in this sharp retelling of English football manager Brian Clough's brief tenure at Leeds United.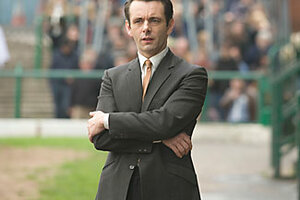 Sony Pictures Classics/Laurie Sparham/AP
As famed English football manager Brian Clough in "The Damned United," Michael Sheen is a great deal more spirited than he was playing Tony Blair in "The Queen" or David Frost in "Frost/Nixon." Clough cut a swath through the English football world in the 1960s and early '70s before meeting his Waterloo as head coach of reigning champion Leeds United. Clough was an officious taskmaster who believed in playing by the rules. His new team specialized in bullying and bashing. The real match in this movie isn't between the teams, it's between Clough and Leeds United, and both give as good as they get.
Director Tom Hooper keeps things lively on and off the field, but at times the film, with its overreliance on football lore and actual newsreel footage, resembles a docudrama. Screenwriter Peter Morgan, who specializes in fact-based films (e.g., "The Queen," "Frost/Nixon," "The Last King of Scotland," "Longford") may want to take a break from the genre. But Sheen is startlingly good here, and so is Timothy Spall as Clough's trusted and much abused lieutenant. Grade: B+ (Rated R for language.)
---
Follow Stories Like This
Get the Monitor stories you care about delivered to your inbox.