Review: 'Amelia'
Biopic of Earhart's rise to fame is such a smooth ride the film lacks spark and edge.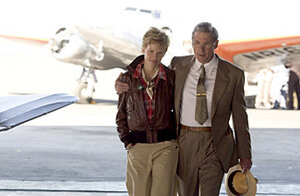 Fox Searchlight,Ken Woroner/AP
"Amelia" is an old-fashioned biopic that doesn't jibe with a newfangled world. Director Mira Nair's devotional take on legendary aviatrix Amelia Earhart, played by Hilary Swank, is almost completely lacking in edge, irony, humor, sparks. It's the movie equivalent of a mediocre young-adult novel about a famous historical personage.
Even discounting all the conspiracy theories surrounding Earhart's midflight disappearance in the South Pacific in 1937, her life is far more interesting than this movie allows for. She is presented to us as a rambunctious Kansas girl who always dreamed of flying and rose to Lindbergh-like celebrity when she eventually became the first woman to fly solo across the Atlantic Ocean. Her fate unfolds seemingly magically – she's destined to soar the skies. (About the only transcendent thing in the movie are the cloud-borne aerial shots.)
Swank is a dead ringer for Earhart, which only makes the movie's deficiencies even more regrettable. It's impossible not to imagine how much better her performance might have been if the movie had been equal to her look. But Swank, freckled, with close-cropped hair, sporting an iffy Midwestern accent, is done in by Nair's reverential treatment. In particular, she's done in by the script (by Ron Bass and Anna Hamilton Phelan, based on two mammoth Earhart biographies), which force-feeds her such lines as "I want to be free to be a vagabond of the air," or, my favorite, "What do dreams know of boundaries?"
---