Review: 'The Maid'
In this Chilean film, Raquel's brooding after decades of service reveals a complex character and a deep-set sadness.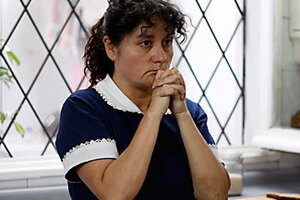 Courtesy of Elephant Eye Films
Sometimes it takes a foreign-language movie to remind me of the bad viewing habits that Hollywood movies encourage. Take the new Chilean film "The Maid," for example, a big prizewinner last year at Sundance. It's about Raquel (Catalina Saavedra), a surly but beloved 41-year-old domestic who has worked with the same upper-middle-class family for more than 20 years. Raquel has lately been warring with the family's teenage daughter Camila (Andrea García-Huidobro), and in one sequence the girl's mother, Pilar (Claudia Celedón), sneaks a peek at Raquel's photo album. Camila's face is scratched out of every family photo in which she appears.
At this point I was, of course, expecting "The Maid" to turn into "The Hand That Rocks the Cradle." Psycho nannies are not, of course, exclusive to Hollywood. (French movies, for example, have had their share.) But when this scary frisson turned out to be no more than a blip on the otherwise frightless radar, I felt a bit ashamed of my Hollywood-honed instincts. I felt even worse because, on some level, I think the film might have been more interesting if it had gone the gory route.
As it is, "The Maid" is a study of a character who rarely emerges from the opaque end of the spectrum. When we first see Raquel, she looks miserable even as the family is exhorting her to come into the dining room for her birthday celebration. She suffers from dizzy spells of some unspecified sort. Her passive-aggressive skirmishes with Camila are not balanced out by her favoritism, laced with suppressed smiles, for the teenage Lucas (Agustín Silva). Raquel is not a barrel of laughs.
---