'The Messenger' - movie review
'The Messenger' is an understated character study of two Army officers assigned to inform families that their loved one has been killed.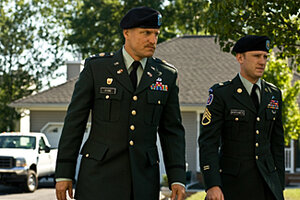 Courtesy of Oscilloscope Laboratories
"The Messenger," filmed in and around Fort Dix, N.J., is about two Army officers assigned to work for the Casualty Notification Office – an all-too-timely subject. The two men, Capt. Tony Stone (Woody Harrelson) and his subordinate, Staff Sgt. Will Montgomery (Ben Foster), appear at the doorsteps of next of kin, recite a scripted message from the secretary of the Army, and break the bad news before beating a relatively hasty retreat. Usually in the movies this home front process is dramatized from the point of view of the bereaved. Here we see it from the other side. There can't be many worse jobs.
Stone, a recovering alcoholic, is a lifer in the military who talks big about his professed wartime exploits. He may be a hell-raiser off the job but he takes his notification work with deadly seriousness. He's honed the protocol. (On his first assignment with Montgomery, he runs down a checklist of no-nos and tells him to "lose the shades.") Montgomery, wounded and decorated, has recently returned from Iraq to find his ex-girlfriend engaged to be married. Playing out the final months of his service, he's initially unprepared for the onrush of grief and anger he encounters.
---