Fish Tank: movie review
Penned in by circumstance, a teenager finds ways to rebel in this bleak look at adolescence in 'Fish Tank.'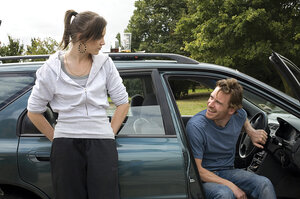 IFC FILMS/AP
Mia (Katie Jarvis), the 15-year-old heroine of writer-director Andrea Arnold's "Fish Tank," lives with her alcoholic mother and younger sister in a bleak housing project in Essex, east of London. She doesn't really attend school and has no close friends. Her only enjoyment, it seems, is dancing by herself. Wearing headphones and baggy sweats, she practices her hip hop moves in a boarded up apartment that looks out over the squalor she is attempting to dance away from.
Because Arnold hews the film so close to Mia's hurts, what might come across as a downer instead often has a startling immediacy. Only bad movies are depressing movies. "Fish Tank," for all its faults and vagaries, brings us up close to a fully realized human being, and that's revivifying.
Jarvis, who had no previous acting experience, was accidentally discovered by Arnold when she overhead the girl arguing with her boyfriend in a train station. Arnold was right to go with her instincts in casting an untrained unknown: Jarvis has an openness to the camera that a more accomplished performer might have lacked. Her acting has a moment-to-moment excitement because we can never tell what Mia will do.
Like most adolescents, only more so, Mia is a mass of contradictions. Her retort to a taunting girl from the projects is simple: She head butts her and breaks her nose. She also has a soft side. Eyeing a decrepit horse tethered to a vacant lot occupied by townies, she darts inside the property and attempts to set it free.
The symbolism of Mia unleashing a sick, corraled horse may be a bit thick, but it's not out of place here. Mia is penned in by the circumstances of her life. She revels in those moments when she breaks loose, not only in her dancing but also for the sheer love of speed when she suddenly sprints across the decaying landscape.
---