'Greenberg' and 'Hot Tub Time Machine': movie reviews
Both 'Greenberg' and 'Hot Tub Time Machine' deal with middle-age men whose lives have been a stream of disappointment and are forced to face their past – and themselves.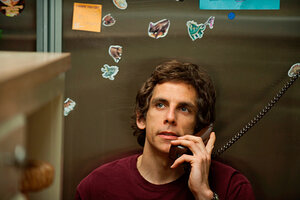 Focus Features, Wilson Webb/AP
When two films dealing with the same issues just happen to appear on screens nationwide on the same day, it may be an indicator of some undercurrent in the zeitgeist ... or, given the vagaries of production and distribution, it may be no more than simple coincidence. So let's discreetly sidestep pronouncements about any broad cultural or political significance in the simultaneous arrivals of "Greenberg" and (oh, how I love to say it!) "Hot Tub Time Machine."
Both movies are about men in their 40s whose adult lives have been nonstop disappointments – unsatisfying romances, lost friendships, abandonment of career ambitions. Basically stalled, each revisits the world of his youth – in one case figuratively, in the other quite literally – and doesn't find precisely what he expected.
Given that thematic base, it shouldn't be surprising that even specific story points are duplicated: In both films, the heroes connect with old girlfriends, only to realize that for decades they've been carrying mistaken views of those relationships. That may be inevitable, but other similarities are more striking.
---