Iron Man 2: review
Iron Man 2 review: Like the original megablockbuster, Iron Man 2 draws heavily on Robert Downey Jr.'s quirky performance as the superhero to keep the energy focused.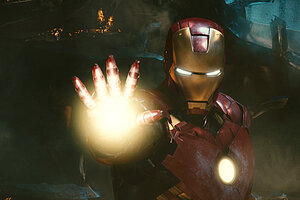 Industrial Light and Magic/Paramount Pictures/AP
What would "Iron Man 2" be without Robert Downey Jr.? I asked the same question of "Iron Man," and, with one exception, the query still applies. That exception, however, is a big one. As Ivan Vanko, the mad Russian physicist hellbent on eradicating His Ironness, Mickey Rourke almost pumps new blood into a franchise that is already starting to show its age.
The appeal of "Iron Man 2," as with its predecessor, is having a superhero who is not quite super and not altogether heroic. Billionaire playboy industrialist Tony Stark revealed at the end of the last film that he was the armor-suited Iron Man and it didn't seem to faze anybody very much, least of all Tony.
For such an extreme narcissist, a secret identity would only represent excess baggage anyway. Without it, Tony is free to be his usual hyperobnoxious self and save the world at the same time. In "Iron Man 2," at least for its first hour or so, Tony is more blisteringly self-infatuated than ever. As he crows in front of a Senate panel grilling him about his refusal to provide the military with Iron Man technology, "I have successfully privatized world peace." And so he has.
RELATED: Why Iron Man 2 ignores Hollywood 3D mania
Iron Man is often described as a pacifist warrior, but the reason no wars have broken out with him around is because his armored firepower can best anybody. He doesn't manufacture weapons anymore because he doesn't need to. He makes deterrence sexy.
---