Mother and Child: movie review
Wrapped around the theme of adoption, 'Mother and Child' is a weepfest of intersecting story lines pulled together by a top-drawer cast.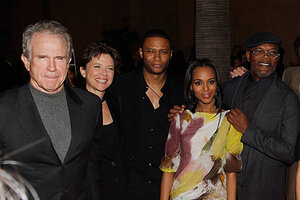 Donald Traill/AP
If you are a regular moviegoer who can't get enough of the daytime soaps, look no further than "Mother and Child." It has enough soapy story lines to fill out at least three daytime series for a month.
Despite its "sophisticated" veneer and top-drawer cast, this weepfest written and directed by Rodrigo García doesn't offer up a whole lot more to chew on than, say, "Guiding Light" or "The Young and the Restless." Or, to be more exact, there's all too much to chew on here – the film could more accurately be titled "The Young and the Very Young and the Old and the Middle-Aged and the Restless" – but I still left the theater feeling famished.
A plot synopsis of this film would resemble a flow chart. Bottom line: It's about, you guessed it, mothers and their children. The overlapping narratives all drive home the same point – mothers need children, and (sort of) vice versa. Karen (Annette Bening), when she was 14, placed her baby up for adoption at the insistence of her now invalid mother (Eileen Ryan), with whom she lives unhappily. Karen writes unmailed letters to the daughter she never knew, but we in the audience have the privilege of observing that daughter all grown-up. Naomi Watts's Elizabeth, who shucked off her adoptive parents years ago, is now a bitter, take-no-prisoners lawyer who also doubles as a man trap. To say she seduces her new boss Paul (Samuel L. Jackson) would be a gross understatement. She commandeers him.
---