Robin Hood: movie review
This retelling of the classic Robin Hood tale is a somber, violence-heavy take that's slim on poetry or romance.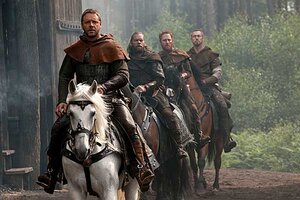 David Appleby/Universal Pictures/AP
Do we really need another Robin Hood in the movies? From the high points of Errol Flynn and Sean Connery to the low point of Kevin Costner – Robin Hood as surfer dude – I think we've had quite enough already. But never underestimate Hollywood's penchant for revisionism – i.e., the recycling of old goods into new money. The revisitionist bug has claimed Superman and Batman, so I guess Robin Hood was inevitable. So let me put this another way: Do we really need a revisionist Robin Hood?
After seeing Ridley Scott's "Robin Hood," starring Russell Crowe, I would unhesitantly answer that question in the negative. I much prefer Mel Brooks's "Robin Hood: Men in Tights" to all this doomy somberness. Why take the legend so seriously?
It would be different, I suppose, if Scott and his screenwriter Brian Helgeland were trying for some kind of grand-scale epic à la "Lawrence of Arabia." That wasn't merely an epic-sized film – it was an epic of ideas. There are no big ideas knocking around in "Robin Hood," no vision beyond the rudimentary: Life was really really grim way back in AD 1199.
---