Angelina Jolie stars in 'Salt' as a CIA superspy
Angelina Jolie plays a CIA superspy, in the new movie 'Salt,' a high-octane action thriller.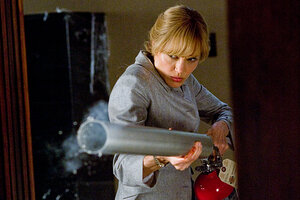 Andrew Schwartz/Columbia Pictures - Sony/AP
In her new movie "Salt," Angelina Jolie is outfitted in blond wigs, black wigs, jumpsuits, pantsuits. She can appear eerily strait-laced in one scene and goth in the next. She's probably the most dynamic action star in the movies right now and certainly the most exotic.
In "Salt," she's playing a role that originally was meant for Tom Cruise; I don't lament the switch. The part could just as easily have been set up for Matt Damon. Although the principal filmmakers – director Phillip Noyce, screenwriter Kurt Wimmer and cinematographer Robert Elswit – seem to have had a "Bourne"-style franchise in mind, their film is a bit too wiggy and perverse for that.
It's also unapologetically a throwback to cold warriorism. Jolie plays Evelyn Salt, a CIA undercover superspy first seen in flashback being tortured by her North Korean captors – just to set the film's temperature. (All in a day's work.)
---