The American: movie review
In 'The American,' George Clooney plays an assassin ready for the quiet life in a picturesque Italian village.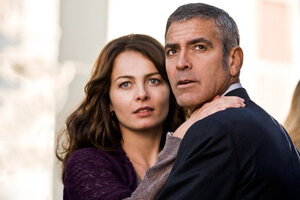 Giles Keyte/Focus Features/MCT/Newscom
In "The American," George Clooney, as we are constantly reminded, is playing an American. He is also playing a professional assassin. For the filmmakers, there is some kind of equivalency between being an American and being an assassin. Apparently there are no professional assassins who are not American.
Based on the Martin Booth novel "A Very Private Gentleman" and directed by Anton Corbijn from a screenplay by Rowan Joffe, "The American" is about a very private gentleman indeed. Clooney's Jack doesn't make friends easily because they tend to die when they're around him. An unknowing girlfriend, for example, gets it between the eyes in the opening minutes, propelling Jack into hiding in a mountainside Italian village in Abruzzo. "Don't make friends," his handler reminds him.
But nobody counted on Clara (Violante Placido), the resident prostitute-with-a-heart-of-gold who is particularly taken with the large butterfly tattoo nestling between Jack's shoulder blades. "Mr. Farfalle," she calls him, and she's not referring to pasta.
This butterfly motif is omnipresent in "The American." When Jack, working a new job from Abruzzo, constructs a super-duper high-powered rifle for a mysterious hit woman (Thekla Reuten), during target practice he delights in the white butterfly that alights on her thigh. Jack's way of showing delight is, however, minimal. He deadpans his way through life, though he always seems to be chewing gum. In "The American," chewing gum is what passes for characterization.
---