Hereafter: movie review
Director Clint Eastwood's moody 'Hereafter' tries hard, but veers uncomfortably close to quackery.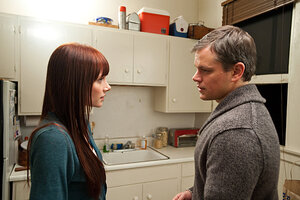 Ken Regan/Warner Bros./Reuters
Clint Eastwood, long a critics' darling, is perhaps the most internationally lionized living movie director. His new film, "Hereafter," is also his most "European." It's trying very hard to be moody and intuitive and ruminative – all those things that American movies aren't supposed to be.
But the moodiness often registers as glumness, the intuitions are engineered, and the ruminations are on par with the metaphysical hoo-ha of, say, "The Razor's Edge," a book/movie/remake of which I am not overly fond.
The big surprise here is not only that Eastwood directed "Hereafter" but that Peter Morgan, heretofore known for such wit-laced historical dramas as "The Queen" and "Frost/Nixon," did the screenplay. There are a lot of muscle pulls in this stretching exercise.
It begins with its best sequence – a massive tsunami that devastates an Indonesian beach town and provides French TV journalist Marie Lelay (Cecile de France), vacationing with her boyfriend, Didier (Thierry Neuvic), with a near-death experience in which she glimpses denizens of the great (and fuzzy) beyond. Shaken, she takes a leave of absence from her job to write a book – ostensibly on former French president François Mitterand but, as it turns out, on the hereafter and the "conspiracy of silence" surrounding it.
Eastwood and Morgan have added two additional stories, all of which converge, not very convincingly, in a grand summa at the end.
---