127 Hours: movie review
James Franco plays Aron Ralston in '127 hours,' a visceral retelling of a man facing calamity.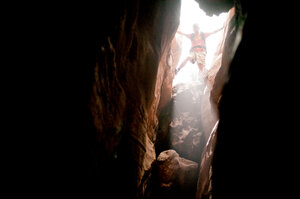 Fox Searchlight
What would you do if you were a hiker and a rock slide pinned your arm against a narrow canyon wall and help was nowhere to be found? If you're Aron Ralston, who subsequently wrote a book, "Between a Rock and a Hard Place," about his real-life 2003 ordeal in Bluejohn Canyon, Utah, you exhaust all nonsurgical remedies over the course of 127 hours and then you do the dirty deed. You sever your right forearm.
This sequence, which provides the grisly, inevitable climax to Danny Boyle's "127 Hours," has reportedly set off a wave of fainting spells at preview screenings. It's only a movie, folks, though you may want to look away anyway. I didn't, thereby ruining my dinner plans.
James Franco plays Ralston, and, except for a lovely pre-rock slide interlude where he cavorts with two fetching lost hikers (Kate Mara and Amber Tamblyn), he's basically the whole show. Franco is a remarkably engaging actor – a prerequisite here – but Boyle, understandably, tricks up his predicament with a slew of Ralston's imaginings and fantasies and swaddles everything in a throbbing synthopop score.
---