Fair Game: movie review
The political thriller 'Fair Game' serves up righteous outrage at the outing of CIA agent Valerie Plame.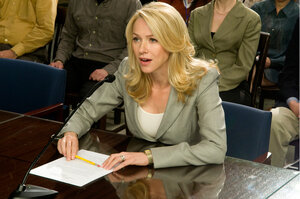 Summit Entertainment
Is the time right for a movie about the 2003 Valerie Plame–Joseph Wilson smack down? So many Washington scandals have transpired since then that "Fair Game," based on memoirs by both Plame and Wilson, and starring Naomi Watts and Sean Penn, might seem like old news.
Robert Luskin, a lawyer for Karl Rove, recently told a New York Times reporter that the Wilsons are "a little past their 'sell-by' date."
I suppose this is true if timeliness is gauged in direct proportion to our collective near-amnesia of news going back more than a few years (months? days?). But the Wilsons' ordeal should not be relegated to the scrapheap of scandals past, if only because the past, to paraphrase something William Faulkner once said, isn't even past.
This is not to say that "Fair Game," directed by Doug Liman and written by the brothers Jez and John-Henry Butterworth, is an outstanding piece of political moviemaking. Preachy, sketchy, disjunctive, and with a blistery, solarized sheen that makes it look microwaved rather than photographed, "Fair Game" is a movie that for the most part trades on the Wilsons' notoriety instead of delving into the heart of it.
---