Movie review: 'The Fighter' starring Mark Wahlberg and Christian Bale
The fighting isn't just in the ring in 'The Fighter,' as Mark Wahlberg's working-class boxer 'Irish' Micky Ward deals with his destructive family.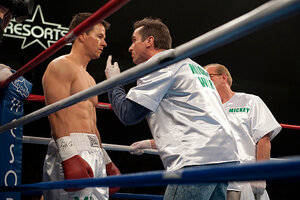 Courtesy of Paramount Pictures
David O. Russell's "The Fighter," starring Mark Wahlberg and Christian Bale, is an in-your-face – more exactly, in-your-eyes-and-ears – movie about a celebrated real-life blue-collar boxing family.
Once more, as in "The Wrestler," we have in our midst a movie about fighting as – what else? – metaphor. To its credit, unlike "The Wrestler," the metaphor often takes a back seat to the fighting, though not nearly enough for my taste. (For me, the best fight movie of the year remains Frederick Wiseman's documentary "Boxing Gym," where the fighting isn't a metaphor for anything – it's simply fighting.)
Wahlberg's "Irish" Micky Ward is a junior welterweight from Lowell, Mass., whose career, as managed by his scabrous mom Alice (Melissa Leo) and cokehead trainer and older half brother Dicky Eklund (Bale), is rocky (and "Rocky") at best. Dicky is both Micky's idol and nemesis. Ravaged as he is, he still knows more about boxing than just about anybody else. What he doesn't begin to know is how to manage his own life.
---