Owen Wilson, Reese Witherspoon star in 'How Do You Know': movie review
Owen Wilson is in the romantic comedy 'How Do You Know,' where Reese Witherspoon plays a professional softball player caught in a love triangle.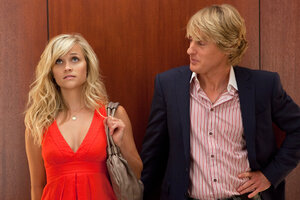 Sony Pictures
James L. Brooks, the writer-director of "How Do You Know," starring Reese Witherspoon, has never been altogether content making movies that fit neatly into the romantic-comedy mold.
"Terms of Endearment" started out funny and turned into a high-class sudser. "Broadcast News" and "As Good as It Gets" followed a similar trajectory. ("Spanglish" crashed and burned.)
Mixing high and low is a perfectly justifiable tactic for a romantic comedy, although most often the mood swings come across as opportunistic – a way to touch all the bases and make sure nobody, from the chortlers to the weepers, gets left out.
"How Do You Know" is best when it's morphing into seriousness. Too often the comic bits seem like sops to the audience.
Reese Witherspoon plays Lisa, an Olympic athlete and professional softball player who finds herself professionally and emotionally stranded when she is cut from the team. Her counterpart is George (Paul Rudd), a top executive in a business firm owned by his father Charles (Jack Nicholson). When George is served with a government indictment for corporate fraud, he finds himself essentially locked out of his company. Worse, he realizes the real malefactor is his father. What to do?
Brooks stages a meet-cute moment between Lisa and George on what, for both of them, is the worst day of their lives. Despite the fact that these two are diametric opposites – she remains feisty, while he's a wallower – something clicks anyway. No surprise.
---
Follow Stories Like This
Get the Monitor stories you care about delivered to your inbox.