Jack Black in Gulliver's Travels movie
This latest rendition of 'Gulliver's Travels,' starring Jack Black, is one to cross off your list.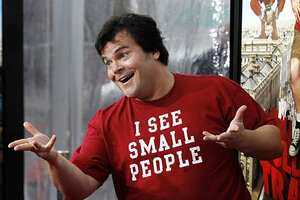 Mario Anzuoni/Reuters
Ever walk out at the end of a bad movie and feel as if your pocket has been picked? If you've never had that experience, you're not seeing enough bad movies. A good way to rectify that lack is by catching "Gulliver's Travels," a movie of such stupendous uninspiration that, watching it, I didn't know whether to be affronted or hornswoggled. Movies this monumentally dreadful, after all, don't come along every day.
Related: Ten best movies of 2010
Jack Black plays a deadbeat newspaper mailroom clerk who finagles (fantasizes?) a travel story assigment that lands him in the tiny-people land of Lilliput by way of the Bermuda Triangle. My guess is that everybody involved in this production, including cast members Jason Segel, Emily Blunt, Amanda Peet, and Billy Connolly, wishes they could be shrunk down to nothingness. Grade: F (Rated PG for brief rude humor, mild language, and action.)
More Monitor movie reviews
---
Follow Stories Like This
Get the Monitor stories you care about delivered to your inbox.