Cave of Forgotten Dreams: movie review
In 'Cave of Forgotten Dreams,' Werner Herzog takes us on an extraordinary journey to see Earth's first artists and ponder the origins of what it means to be human.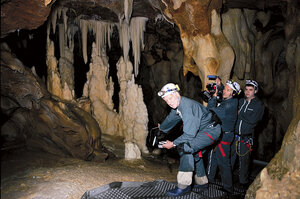 IFC
The documentaries of the great German director Werner Herzog are mystifyingly meditative. He transforms what he sees – whether it be Peruvian jungles or Antarctica – into his own intensely personal amphitheater. His way of seeing is as singular and as impossible to mistake as Picasso's.
Although best known for such dramatic films as "Nosferatu" and "Aguirre, the Wrath of God" (one of the greatest and most influential movies of all time), a large portion of Herzog's career has been taken up with documentaries. More than just about any other filmmaker, he has expanded the definition of what a documentary can be – how it can resemble a philosophical discourse, a poem, an anthropological study, a dream.
His latest documentary, appropriately titled "Cave of Forgotten Dreams," is one of his best. It could serve as the apotheosis of his artistry. Inspired by an article in The New Yorker by Judith Thurman, it is about nothing less than the origins of what it means to be human, or to be an artist – which, for Herzog, represents the same thing.
This twinning of humanness and artistic creation is embodied in the charcoal cave drawings that were discovered in 1994 in Chauvet-Pont-d'Arc in southern France. Through the extraordinary permission of the French Ministry of Culture, Herzog was able to secure permission to film inside the caves, the only filmmaker ever granted such a request.
---