Johnny Depp stars in 'Pirates of the Caribbean: On Stranger Tides'
In search of the Fountain of Youth, Johnny Depp as Capt. Jack Sparrow embarks on another adventure in 'Pirates of the Caribbean: On Stranger Tides.'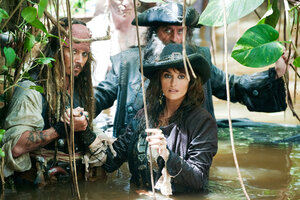 Peter Mountain/Disney/AP
Since I am still recovering from "Pirates of the Caribbean: At World's End" – is it over yet? – I can't say I was much in the mood for "Pirates of the Caribbean: On Stranger Tides." On the other hand, there was no place to go but up – way up – and so I can cheerfully report that I only glanced at my watch about 20 times, as opposed to 200 times for its predecessor.
Part of the reason for this, however, may be because this new installment in the unceasing "Pirates" franchise is in 3-D, and wearing those glasses makes it's much more difficult to look at your watch.
In a pleasant change of pace, this sequel isn't altogether incomprehensible. I could actually follow the story, such as it is; in fact, I was often one step ahead of the story. There are few shocks to the system here. Even the "surprise" appearance of Keith Richards, as the scurvy father of Johnny Depp's Captain Jack Sparrow, has already been hyped to death in the advance press.
Richards is no less welcome for that. Depp is on record as crediting the rocker as the model for Jack's tottering body language, and seeing the two of them together, each trying to outdo the other's wigginess, is blissfully funny. Plus Richards has the best line in the movie. There aren't all that many good ones.
---