Midnight in Paris: movie review
Woody Allen's latest film, 'Midnight in Paris,' delivers his trademark wit and some retrofantasy set in an idyllic Paris.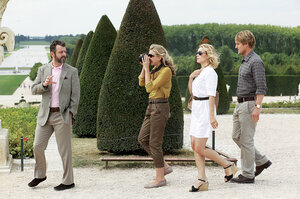 Sony Pictures Classics
Woody Allen has directed so many movies – about one a year, since the 1970s – that they tend to blend together. This is especially so since he often retreads the same material, albeit with enough twists to cover his tracks.
His latest film – or should I say, this year's Woody Allen entry – is a sweet, not altogether satisfying variation on the fantasy-becomes-reality conceit he used in his Depression-era "The Purple Rose of Cairo."
In "Midnight in Paris," Owen Wilson plays Gil, a successful, self-described Hollywood hack vacationing with his flinty fiancée, Inez (Rachel McAdams). Trying to complete his first novel – a serious work he hopes will validate his self-worth if not overfill his bank account – he falls in love with Paris and its romantic connection to his Lost Generation idols Hemingway and Fitzgerald.
Then, mysteriously, he finds himself, each midnight, transported back to that time, where he communes and carouses not only with those writers but with the likes of Picasso, Gertrude Stein (Kathy Bates), Monet, Dalí (Adrien Brody), Luis Buñuel, Cole Porter, T.S. Eliot – you get the picture.
After a while, the passing parade of geniuses becomes in itself a source of amusement.
---