The Hangover Part II: movie review
'The Hangover Part II' keeps the template of the original movie but adds a darker, scummier tone.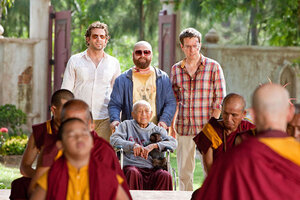 Melinda Sue Gordon/Warner Bros. Pictures/AP
When I recently compared "Bridesmaids" to "The Hangover," I wasn't being altogether complimentary. Now that I've seen "The Hangover Part II," I must apologize to the "Bridesmaids" people. By comparison, their movie is "Citizen Kane."
I can understand why this sequel to "The Hangover" exists. That movie was no masterpiece either, but it was intermittently laugh-out-loud funny and, more to my point, it made about $500 million. Its follow-up, not surprisingly, doesn't mess much with the template, but there's a disturbing shift in tone: This one is darker and scummier, to no real purpose.
Set in Bangkok, where life apparently is cheap, the sequel has straight-laced dentist Stu (Ed Helms) preparing for his nuptials with his Wolf Pack, Phil (Bradley Cooper), Doug (Justin Bartha), and Alan (Zach Galifianakis), in tow. Thailand is the home country of Stu's fiancée (Jamie Chung), whose father is not a fan of the marriage. (In a prewedding toast he compares the groom to boiled white rice, which sounds about right actually.)
---