Cars 2: movie review
'Cars 2' is marginally better than 'Cars' and pulls in some familiar voices, such as Larry the Cable Guy and Owen Wilson.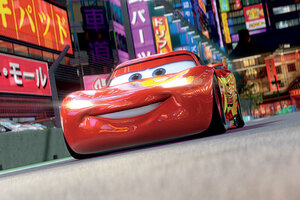 Courtesy of Disney/Pixar
Of all the many and mostly wonderful Pixar films, the 2006 "Cars," with the possible exception of "Up," is my least favorite – although the second half of "Wall-E" lost me, and the image in "Ratatouille" of all those supposedly cute rats pouring through the kitchen of a high-end French restaurant ranks right up there for me with the shower scene in "Psycho."
"Cars 2" is marginally better than its predecessor, but the same problem still remains: Cars just aren't very interesting as anthropomorphic animation vehicles (pun intended). The facial expressions are necessarily limited, and so, even more than with the other Pixar films, the "Cars" series relies on voice-over characterization. If you close your eyes during "Cars 2," you'll miss a lot of overbusy animated shenanigans but you'll still get the gist of the story. This is not necessarily a good thing.
Perhaps this explains why director John Lasseter, who codirected with Brad Lewis from a script by Ben Queen, relies too much on the countrified comedy of Larry the Cable Guy's Mater, a pickup truck who seems to have wandered in from a vaudeville sketch on the Grand Ole Opry. Returning again as well is Lightning McQueen (Owen Wilson, instantly identifiable by his drawl).
---