Transformers: Dark of the Moon: movie review
Shia LaBeouf returns as Sam Witwicky in this third installment, 'Transformers: Dark of the Moon.'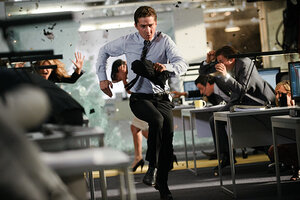 Jaimie Trueblood/Paramount Pictures/AP
Sitting through 2009's "Transformers: Revenge of the Fallen" remains for me one of the signal bad experiences I've ever had at the movies, and that's not even counting the jumbo Coke some patron accidentally spilled on me.
Given this history, I was fully steeled for Michael Bay's 3-D follow-up, "Transformers: Dark of the Moon," the third in this torture chamber of a movie franchise. I gave myself strict ground rules: Look away from the screen whenever the sensory overload is playing racquet ball with your neural circuits and clap your ears whenever they threaten to fry. Also, don't even think about following the story line, which is nonexistent anyway, and just pray that you walk out of the movie as a reasonable facsimile of the person who walked into it.
Having survived, sort of, the new "Transformers," I heartily recommend my ground rules to anybody in similar straits – which includes, I would imagine, anybody above the age of 9. If you don't know the difference between an Autobot and a Decepticon – and after 154 minutes of this assaultive movie, I'm still not entirely sure – then steer clear.
---