Julia Roberts, Tom Hanks star in 'Larry Crowne': movie review
Julia Roberts and Tom Hanks fail to generate much chemistry in this romantic comedy about the affable, jobless Larry Crowne, who goes back to school to improve his prospects. Julia Roberts plays one of his instructors.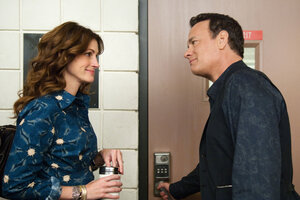 Bruce Talamon/Universal Pictures/AP
Tom Hanks has an affinity for playing affable ordinary guys, which I guess makes him the Jimmy Stewart of his generation. Stewart, however, had a dual career playing characters – in "Vertigo" above all – stretched to the edge of doom. Hanks has been far less willing to tempt the dark side. If his new film, "Larry Crowne," is any indication, affability is still his calling card.
He plays the eponymous title character, a popular employee at a big-box retailer who is unaccountably laid off because he lacks a college degree. Dazed but resourceful, he enrolls in a local junior college, where his course work includes an economics class and a course in "the art of informal remarks." It's not clear how taking a couple of classes in a junior college is going to help a 50-plus man get a job, but let that pass.
The economics teacher, played with straight-faced hilarity by George Takei, is a martinet who confiscates Larry's cellphone. The other instructor, Mercedes, is played by Julia Roberts with a sashaying cynicism that almost matches Cameron Diaz's in "Bad Teacher." This sort of thing must be in the air.
---