Harry Potter and the Deathly Hallows: Part 2: movie review
Eight films and $2 billion later, a poignant send-off for 'the boy who lived.'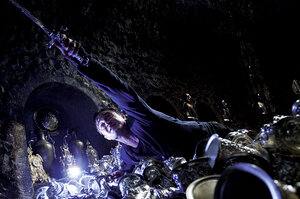 Warner Bros. Pictures/AP
With the appearance of "Harry Potter and the Deathly Hallows: Part 2," it has finally sunk in for a lot of people that Harry won't be having any new adventures, although at the film's recent London première, J.K. Rowling sent a crowd of enthusiasts into a froth by saying "never say never."
The collective emotion arising from the last installment of the "Harry Potter" franchise, after eight films and a record-setting $2 billion at the box office (so far), is a sense of loss. Even for those of us who have not found the films transcendent, there is some regret. The films' rampaging innocence and invention seem worlds apart in quality from most of what passes these days as family entertainment.
The movies, closely following Rowling's books, and all but one expertly scripted by Steve Kloves, have grown inexorably darker since the series began in 2001 with "Harry Potter and the Sorcerer's Stone."
Harry's odyssey, which ends in "Part 2" with the inevitable showdown between Daniel Radcliffe's Harry and Ralph Fiennes's nose-challenged Lord Voldemort, was always pitched as a battle royal between the forces of light and dark. For many of their young enthusiasts, the books and movies probably represented, for the first time on the page or on screen, a true reckoning with the forces of death and sacrifice (although death, in the "Potter" universe, is often a transitory state). This is a big reason why the films (which are not so much adaptations of the novels as they are emanations of them) have become very personal affairs for their fans.
---