The Interrupters: movie review
'The Interrupters' powerfully profiles the straight-talking ex-toughs who confront gang violence in Chicago.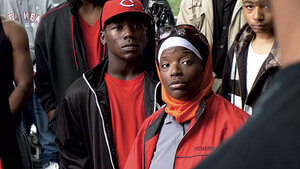 The Cinema Guild
In the spring of 2009, documentary filmmaker Steve James, best known for "Hoop Dreams," and journalist Alex Kotlowitz, author of "There Are No Children," collaborated on a film about the self-described "violence interrupters" of Chicago's CeaseFire, an organization dedicated to preventing shootings. Over the course of a year, 300 hours of footage was shot centering on three of the interrupters, all former gang members, whose mission – job is too soft a term – has been to intervene in confrontations before they turn violent.
The result of this mammoth undertaking is "The Interrupters," which is alternately inspirational and disheartening, galvanizing and wearying. It takes fortitude to stick with this film's almost nonstop litany of woes, the sequences of actual violence and its consequences, and the talking out of that violence. Although his subject is powerful, James is not a powerful storyteller, and the film's somewhat shapeless structure flattens the experience unnecessarily. James may have felt that imposing a tighter narrative approach would falsify the harsh reality of these lives. He needn't have worried. The lives have a dynamism all their own.
Ameena Matthews, one of the three interrupters profiled, has been with CeaseFire for more than three years and grew up on Chicago's South Side as the daughter of one of the city's most notorious gang leaders. She herself was a gang lieutenant before turning to Islam and starting a family. Imperious as a princess, tough-talking as any gangbanger, she moves into confrontations with a fearlessness that is truly awe-inspiring. She knows these people and these streets.
---