Toronto International Film Festival: the buzz this year
George Clooney film captures attention, along with a new Neil Young documentary.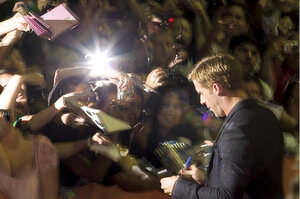 Fred Thornhill/Reuters
The Toronto International Film Festival, which wraps up its 10-day run on Sept. 18, screens about 300 feature films. I have seen every single one of them. At least it feels that way sometimes.
Actually, I've seen 20 thus far – that's about three a day. The films come from 65 countries ranging from Albania to Argentina, but the festival's big liftoff is its long opening weekend when Hollywood showcases its upcoming wares – the movie equivalent of Paris's fall fashion preview. For film journalists, this is a chance to get a leg up on a lot of big-ticket items and, like it or not, be part of the buzz-athon leading up to the Oscars.
Last year, for example, I saw "The King's Speech" in Toronto. We all know where that went. I can safely say that this year Alexander Payne's smoothly enjoyable The Descendants, starring George Clooney as a harried father in Hawaii, will be in the running for an Oscar. I can also safely say that the Madonna-directed W.E., starring Andrea Riseborough as Wallis Simpson, will not be. At least that's what I've been told. Dear reader, Madonna's directorial debut, "Filth and Wisdom," gave me zero incentive to subtract 114 minutes of my life for her latest venture.
---
Follow Stories Like This
Get the Monitor stories you care about delivered to your inbox.