'Moneyball' starring Brad Pitt: movie review
Brad Pitt's great, but the movie, 'Moneyball,' glorifies baseball strategy a little too much.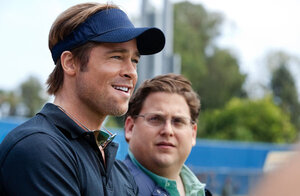 COLUMBIA PICTURES/Album/Newscom
"Moneyball" is a baseball movie that is, of course, being promoted as more than just another baseball movie. Why the inferiority complex? As "Bull Durham" and "The Bad News Bears" and many other films have already demonstrated, baseball movies are just fine being about just baseball.
Maybe the motivation behind all this "more than baseball" stuff is that baseball movies, except in Japan and Latin America, are not big sellers overseas, where Hollywood films often make half their money. Better not to be typecast.
On the other hand, Brad Pitt, who stars in "Moneyball" as real-life Oakland A's general manager Billy Beane, is a global movie star. He is also, on occasion, an excellent actor, and this is one of those occasions. He provides ballast and a swaggering humor to a movie that, too often, strives to be "The Social Network" of baseball movies.
---